The Castle Association
The Association of the Trebnitz Castle Education and Exchange Centre was founded in 1992 and took on the task of restoring and managing the castle as an education and exchange centre. The association promotes the emancipatory development of children and young people through educational opportunities and by orchestrating multi-national exchanges. The primary objective is to encourage self-empowerment and critical faculties in young people. In its work, the association supports youth and adult education by offering vocational training and further education options. In doing so, it is hoped that young people are given the opportunity to deepen and expand their knowledge and skills and transfer these constructively and creatively in the working world and in society.
The members of the association come from the Trebnitz community and the town of Müncheberg, the surrounding area and Berlin. Other active members include the counties of Märkisch-Oderland and Gorzow and the Polish peace society Gòrzyca.
Trebnitz Castle has been the educational institute for the Berlin-Brandenburg Rural Youth Association since 2011.
1. Chairperson: Doris Steinkraus
2. Chairperson: Karl-Heinz Gebhard
Honorary Chairperson: Dr. Eberhard Grashoff (†)
Committee: Christina Krüger, Monika Roth, Dr. Marion Tauschke
Executive Committee Member: Peter von Campenhausen, Gabriele Mayer-Caspari, Andrea Petereit, Marcel Prütz, Gernot Schmidt (Landrat des Landkreises Märkisch-Oderland)
Statute (in German)

The inaugural castle association meeting on 20 March 1992 in the long hall of the castle with residents from the Trebnitz community and surrounding area and the founding members. A final examination of the statutes and, to close, the signing of the founding declaration.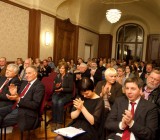 On 20 March 2012, the castle association celebrated its 20th anniversary with many friends and long-term members.